The Best Mountain Bike Trails in Kernville, CA
---
1. Cannell Trail
The Cannell Trail is the most sought-after trail in the Kernville area. Mountain Bike Project has this trail ranked among the 5 best trails in California. Descending down 26 miles of singletrack with epic scenery is what this ride is all about. Starting at nearly 10,000 feet in elevation on the top of Sherman pass, this trail has everything from rocky technical sections to the world-famous "plunge" which drops nearly 8,000 feet in 8 miles. If you are an expert rider in the area make sure to check out the Cannell Trail.
Difficulty: Experts
Length: 26 Miles
E-Bikes: Yes
Shuttle Service: Yes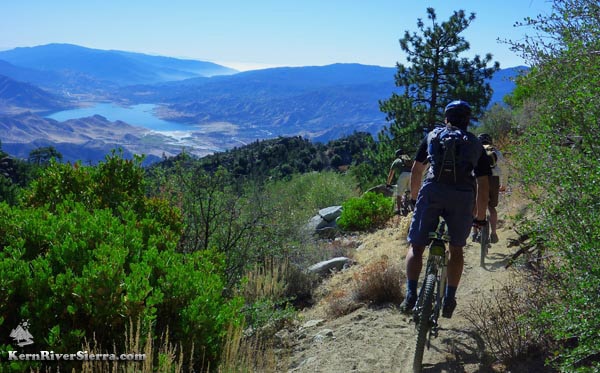 2. Just Outstanding to Dutch Flat
Just Outstanding or more commonly known as "JO" is an instant classic. This trail is best described as extremely fast and flowy. Starting near Alta Sierra Ski Resort in the Greenhorn Mountains offers riders a much shorter and easier shuttle than other rides in the area. Once at the bottom of JO, riders have options to climb up to the Dutch Flat trail which is a substantial step up in difficulty from JO. Dutch flat is a very loose, technical, and fun ride for riders with experience. If less experienced riders in your group are not ready for the challenge of Dutch Flat, they can simply ride down Sawmill road to Highway 155.
Difficulty: Intermediate to Expert
Length: 12 Miles
E-Bikes: Yes
Shuttle Service: No
Note: The 2021 French Fire severely burned the area. Although cleaned up, watch for down trees, snags, and very loose dirt.
3. Tobias Creek Trail
Tobias Creek Trail is one of the most remote and hardest to get rides in the area but the thrill and quality of the trail are hard to beat. This ride starts near Frog Meadow on the north end of the Greenhorn Mountains and finishes at Mcnally's steakhouse along the Upper Kern River. The highlights of this trail are the massive views and the diverse terrain. You can expect everything from very steep and technical sections to fast and flowy jump lines. If you choose to ride the Tobias Creek Trail please be prepared for a full day in the Southern Sierra backcountry.
Difficulty: Expert
Length: 10 miles
E-Bikes: Yes
Shuttle Service: No
Closed as of 9/21/22 due to the 2021 Windy Fire
4. Mill Creek Trail
One of the smoothest and fastest trails in the Kernville area is Mill Creek. Located at the top of Breckenridge Mountain this trail descends 4300 feet down flowy single track to the Old Kern Canyon road. This trail is great for intermediate to expert riders. The shuttle on this ride is very long so a shuttle driver is a must. In the spring riders can expect moist dirt and beautiful wildflowers. This trail is multi use so please be aware of others on the trail.
Difficulty: Intermediate
Length: 8 miles
E-Bikes: Yes
Shuttle Service: No
5. Unal Trail
The Unal Trail is a local favorite becuase of its easy accesibilty, beauitful views, cooler temps, and fun and fast downhill. Mostly rode as a loop the Unal Trail gains nearly 800 feet of elevation before reaching the peak and coming downhill. This trail is meant to be riden counter clock wise and provides good rollers and a fun rock drop. This is a great ride for a quick workout with a good downhill reward.
Difficulty: Intermidate
Length: 5 Miles
E-Bikes: Yes
Shuttle Service: No