Kern River Rafting – Fun For Kids of All Ages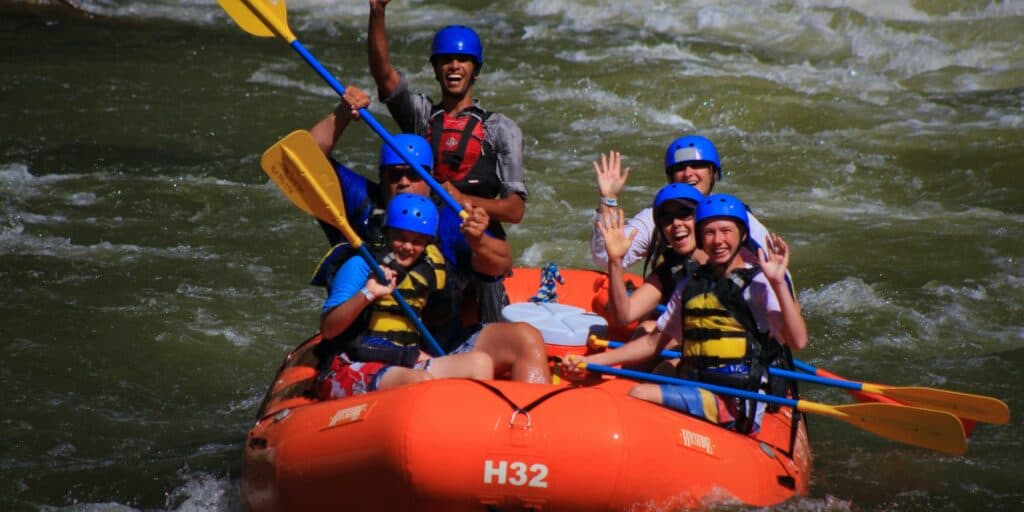 No matter your age, whitewater rafting can be an exhilarating and thrilling experience. From the sights and sounds to the torrent of water rushing by with each passing second, Kern River rafting in Southern California is the most fun you can have on water, and it's also a great trip for kids and families when you just need to getaway.
That said, rivers can be dangerous, and you don't want to rent a raft and head down river without the proper gear, training and guidance, especially with kids on board. But with the right team helping you navigate the waters of the Kern River, rafting can be a safe and enjoyable adventure, and it's conveniently situated just three hours from Los Angeles, so any weekend can be a fun-filled, whitewater rafting weekend.
From easy paddling tours to some of the most challenging whitewater in the country, the Kern River offers something for everyone, especially to kids that will get the most out of every second on the water, splashing, swimming, and jumping off of rocks. There's also tubing, kayaking, paddleboarding, and rock climbing, which all present unique challenges that are sure to captivate your growing kids.
But since much of Kern River rafting is made up of difficult, Class IV rapids, requiring intermediate skills and a more attentive focus that younger kids may lack, it's suggested to go with a lesser difficulty to ensure safety and fun. After all, if your child is overwhelmed and feels unsafe, they likely won't have a good time, and it's true that lesser rapids can actually be more fun than technical runs that require more experience and know-how.
Even if you have younger children that may be too young for a raft, some sections of the Kern River are quite tame and perfect for more leisurely activities that will maintain their focus but won't prove overwhelming. But in general, Class III rapids shouldn't be attempted by children under the age of 6, and progressively harder Class IV rapids shouldn't be attempted by children under the ages of 12, respectively. It's why all of our trips have minimum age limits, though there are plenty of entertainment options for smaller children on the Kern River.
It all starts with our Lower Kern Class II-III rafting trip, which are meant for adults and kids above the age of 8, though high-water protocol may push the minimum age to 12. Class IV rapids typically require a minimum age of 12 due to the more challenging rapids at points during the trip. For younger kids, our Lickety Blaster rafting trips (ages 6 and up) offer a different way to get a Kern River rafting experience without the undue risk, and you might find that older kids have just as much fun on these experiences as they do the bigger rapids.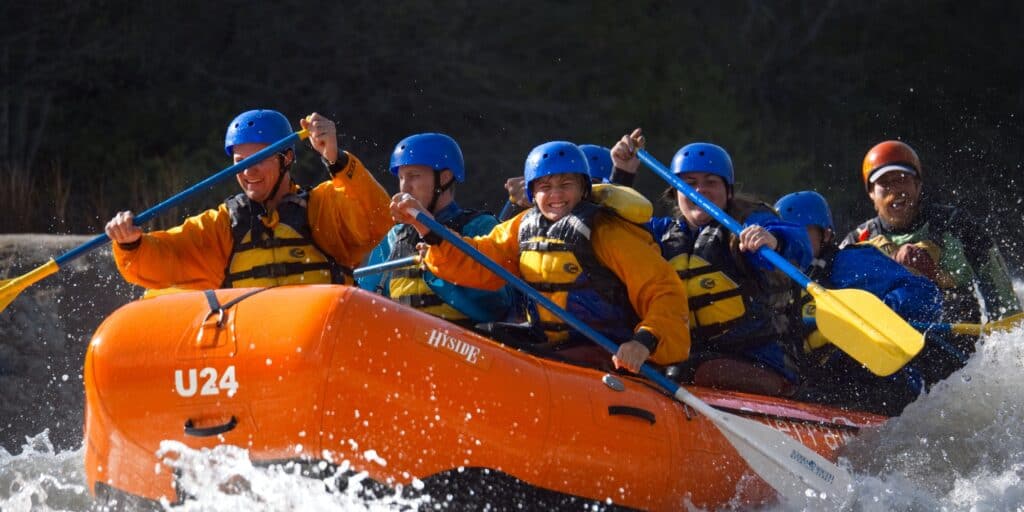 About Kern River Rapids
At 165 miles long, the Kern River is responsible for draining a large part of the Sierra Nevada mountains in Central California. With snowmelt pushing water down scenic canyons, the Kern River is one of the best spots for whitewater rafting in the U.S, and it's also some of the most beautiful wilderness you'll see anywhere.
The Upper Kern has some of the best river rafting access in California, enabling you to get in and out easily, though the size and difficulty of rapids can be challenging for children. With Class III through V+ rapids, the Upper Kern is made up of seven distinct sections, each with their own challenges and features. Some areas can be run straight through, while others require portages where the raft must be carried.
With challenging runs throughout, the Upper Kern is great for older kids and experienced paddlers, and even some of the more mundane runs are difficult due to trees and other obstacles. The seven different Upper Kern sections include Limestone (Class IV), Fairview (Class III), Chamise (Class IV-V), Ant Canyon (Class IV), Thunder Run (Class V), Cables (Class IV) and Lickety Split (Class II and III).
While the Upper Kern provides non-stop action with little rest, the Lower Kern is known as a drop-pool river, which means that after each bit of action, there's a quieter section for everyone to regain their composure. That's great for kids and novices that need some time to breathe and regroup after a stretch of rapids, and it's also good for families to take it all in and bond between the strenuous bits.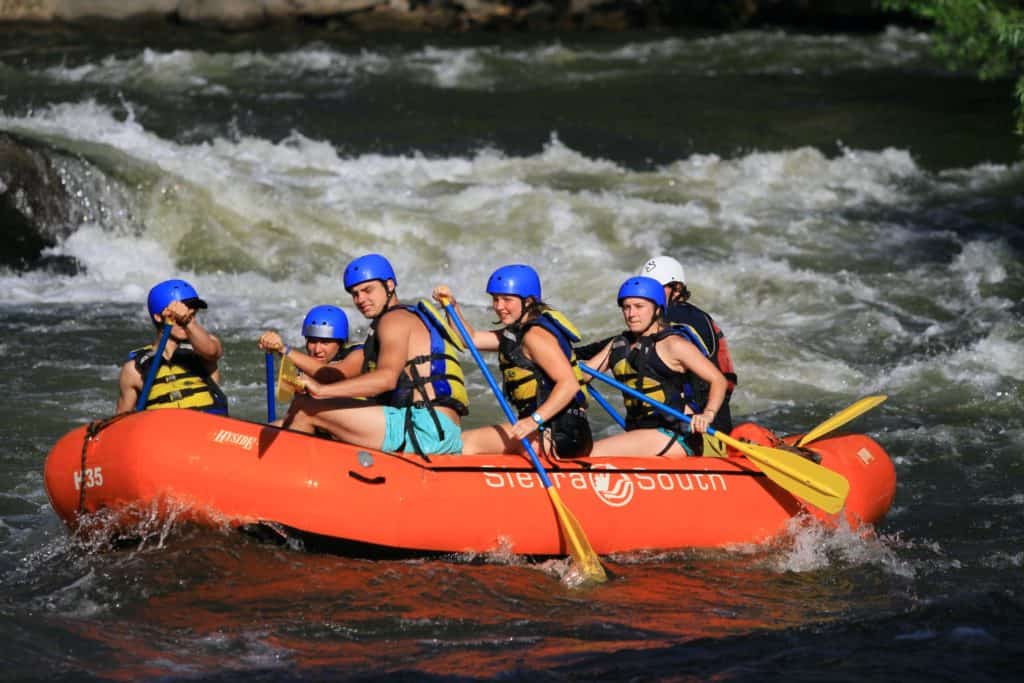 The Upper Kern and Lower Kern are separated by Isabella Lake, which is fed by the Upper Kern, then released into the Lower Kern as circumstances permit. This gives Lower Kern River rafting a much longer season as the water is held in Isabella Lake and released throughout the year.
In this sense, the Upper Kern is a snowmelt river while the Lower Kern is a regulated river. As the weather warms in California into the spring and summer, the runoff is what gives the Upper Kern its rapids, giving a season that starts in late March or early April and going through July, after which all the snow is melted and the reservoir at Isabella Lake holds the rest.
But the best part is that as a regulated river, the Lower Kern has a much longer season than the Upper Kern, which ends just as the summer is getting started. Instead, Kern River water destined for agriculture in the Bakersfield area is regulated throughout the summer, helping keep crops hydrated and adventurers in the thick of fun on the Lower Kern well into the late summer. Unlike unregulated rivers elsewhere, the Lower Kern has excellent rafting into September — much later in the season than would be possible otherwise.
While the Lower Kern has less formidable rapids than the Upper Kern — Class II through Class IV — the season is much longer with raftable flows from May through late September, with 19 miles of varying lengths and difficulties. The average gradient is also 27 FPM, compared to the Upper Kern's 58 FPM, which means it's less steep and better for kids.
The three main parts of Lower Kern River rafting are the Picto, a challenging Class II and III run that starts at Slippery Rock or Granite, ending at Miracle; the Gusto, one of the most popular sections of the Lower Kern, with Class IV rapids and ending at Democrat; and the Big Five, a fast trip that starts at the Delonegha Bridge and ends at Democrat.
While there are many Class II and III rapids, there are also challenging sections, which is why it's always a good idea to go with a trusted outfitter when it comes to Kern River rafting, or whitewater rafting anywhere, for that matter. Even skilled rafters understand that each and every river is different, and experience on any river is one of the best safety measures you can have.
For more about Kern River rafting, look to the experts of Sierra South. With 37 years' experience guiding rafting trips on the Kern River, we're uniquely qualified to help you have a great time on your next rafting trip, whether it's your first time out or you love to come back each and every year. Contact us to book your next trip. We can't wait to see you out on the river!