Depending on which overnight trip you're on, the packing list might vary a bit, but the basics remain the same. Just keep in mind that if you are on the Forks of the Kern, you'll be hauling in most of your own gear and on the Lower Kern 2-Day trip we can shuttle your gear down to camp beforehand.
Sleeping out under the stars. Should you bring a tent?
There's something rugged and unbeatable about sleeping out under the stars. Waking up with the sun and the birds chirping, the smell of coffee brewing in the outdoors — it just hits a bit different. So you'll hear us recommend that you leave the tent at home for this camptrip. But if you're concerned about privacy or need a tent for any number of reasons, feel free to bring a small one with you. We will provide sleeping pads for you, but you are welcome to bring a small tarp for ground cover. A sleeping bag is a must.
Booze and food.
Less is more. (Especially for Forks trips)
Keep in mind that you will be hauling your own gear. Bringing that 36 pack of PBRs sounds like a great idea, until you're only 10 minutes in on a steep downhill trail in full force of California sun. Most of your gear will be shuttled down to the campsite for you on the Lower Kern 2-Day trip, but the recommendations and restrictions for both overnight trips are the same: a cooler per group, wine is okay, no liquor, and no glass.
If you need to bring small specialty snacks, you are welcome to bring those along.
Knick knacks and bric-a-brac
If you carry an EpiPen or need to bring medication along with you, simply give us a heads up and we'll be sure to pack these sensitive items away in a dry-bag for you. Some items that are best not to forget are sunscreen, chapstick, a water bottle, bug spray (if you're sensitive), and a flashlight or headlamp.
Camera/phone
We've already discussed in length some of the best tips for waterproof photography here, but the rule of thumb for bringing your phone while rafting is to bring a waterproof pouch, only use it when it's appropriate, and accept the risks.

Should you bring your car keys?
Losing keys on the river is never a fun experience. Being stranded in Kernville is arguably not the worst thing ever, but we know that reality and your life is back home waiting for you. Responsibilities are calling. Not everyone can live the river rat life forever. Our store staff is happy to keep your keys safe for you back inside our shop, away from the greedy River Gods. But if you absolutely must (we've all got separation anxiety about something, no judgement), consider keeping your small items in a waterproof container like the one below. Bonus, it's also a souvenir. Always remember to double up on waterproofing measures and add something like a ziplock bag.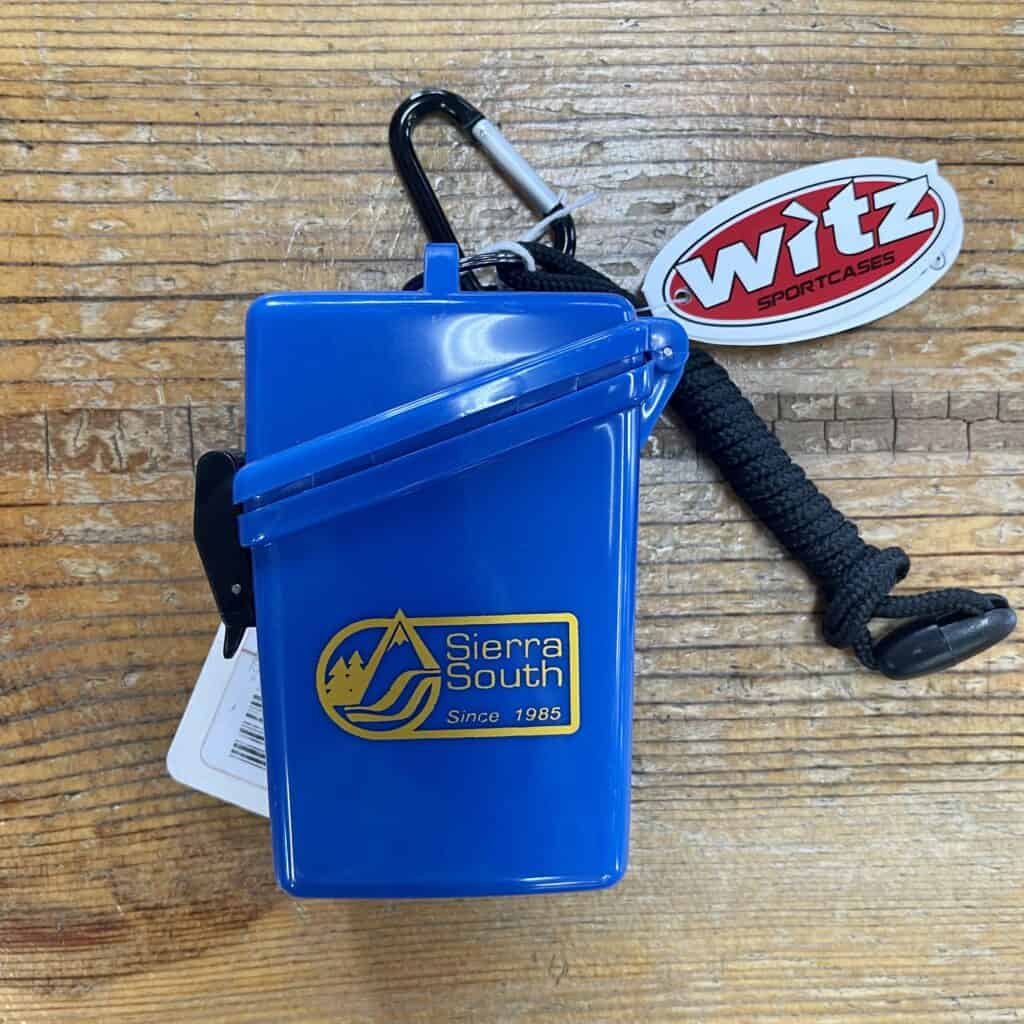 What should you wear?
"How cold is the water?" Is a frequently asked question. There are different answers for this question depending on the time of year of your rafting trip. The Upper Kern is snowmelt from Mount Whitney, so, yes, the water can get quite cold in the Spring! Our general rule is wetsuit season is during springtime, and we require them for all Class IV rafting trips until after Memorial Weekend. If you don't have a wetsuit of your own, you can rent one from us. Our wetsuit packages include a 3mm wetsuit, splash jacket (a waterproof jacket to wear over the wetsuit), and neoprene booties. Simply add these to your reservation online or give us a call to reserve yours. Wetsuits are provided for our Forks of the Kern trips. Later in the summer months, just wear some clothes that you don't mind getting wet in for river days. We recommend moisture-wicking fabric, sunshirts and other UPF clothing is great. All natural fiber materials are not recommended.
You'll want to bring some spare dry clothes to change into at camp. We also recommend bringing another pair of shoes like flip-flops. Please check the weather for Kernville during your stay to build a packing list. A lightweight sweater or jacket is always recommended.
Don't fret if you forget.
Some of our best stories are the ones we can share about that time we forgot [blank]. The trials and tribulations of going without, or creatively repurposing what you did bring. Every group has its own designated MacGyvor. Our store also sells most of the small items that we tend to overlook on the packing list. And if for some reason you've forgotten your favorite sweater, top, or shoes, you'll be able to find your new fave at the shop.